Eight games into the season…are you happy? Let's take stock.
Three wins, three draws, one defeat plus an AET victory, which is a draw or a win depending on viewpoint. 15 goals scored and 9 conceded. Seems pretty rosy at this point doesn't it?
Performance-wise, it's that good old buzzword "transition". It feels like we're doing what we can to return to that strength which in old days moved earth and heaven, and took us to fifth place too, and it's coming through in patches. The wins against Southampton and Chelsea were masterful. However, conceding two at home in a draw with newly promoted (and even more transitional) Watford was more like one of last season's fume-rendering performances. The draw with Spurs was turgid, and although there was no shame in losing to a Man City side that at the time were on fire, it doesn't feel right to lose 2-0 at home and accept it meekly. The sign of actually being a top club is looking to beat everyone, home or away, and being bitterly disappointed when we don't – not that we can't take positives out of the City game. So far there has been no awful performance, although at times there is a fair bit of frustration.
Swansea away at the weekend counts as one of the more frustrating moments of this embryonic campaign. Frustrating because Romelu Lukaku's obviously good enough to score more than a Fresher with loose morals but everything went wrong for him on Saturday. It was fun watching the Ross Barkley show, but he needed someone to apply the finishing touch. And the silky smooth John Stones, Brendan Galloway and Tyias Browning all ensured we'll get the UKIP sympathy vote for good young English lads keeping those crocked Irish lads and spaghetti-legged Costa Ricans out of the side. Swansea are a good side and we dominated them in terms of creating chances, but not in racking up shots on target or those all-important goals. We were lethal in the Chelsea and Southampton games, the ones in which we looked every bit a side that can definitely challenge for the top four, but contesting the top spots also requires a bit of consistency.
Or does it? Nobody's consistent right now. Who has actually been impressive? Man City were, but then their centre backs held back-to-back fancy dress parties and all of them came as Joseph Yobo. Man Utd are top despite not being an improvement on Moyes' effort, so I'm already relishing their trip to Goodison Park in October. Arsenal and Spurs have got a bit better but still aren't magic. Liverpool are doing a pretty good Everton impression actually – only side with a negative goal difference in the top half, infuriating home draws against newly promoted or lower league sides and inspiring fume even when they win…is this post-Gerrard Liverpool? I like it. Chelsea are hilarious but once they get going they'll be a snarling table-scaling nightmare. Southampton and Stoke haven't turned up yet while Swansea and Palace look average. There's definitely a top six spot available there and with a good run of form that fourth spot isn't totally out of reach either. Unless you reckon West Ham and Leicester are going to hang around. Exactly. Worth a push isn't it?
Speaking of worthwhile pursuits, we're actually progressing in the League Cup too. Barnsley were a pain, but Deulofeu and Barkley were on hand to dig us out. Reading were a pain, but…ah, there's the deja vu. Ross Barkley is the absolute sex isn't he. When he gets going it's easy to get all misty-eyed and think of what could be. James McCarthy said as much this week, referring to John Stones but coming to the same conclusion. Everton are going places. If we keep our heads and overcome Norwich at home in the next round we've got round five and the semi-final, and then it's Wembley. But if we get ahead of ourselves we're inviting tragedy. Wigan at home anyone?
But on to the next bunch who think they can stem the royal blue tide. And seeing as they're currently football's answer to cock-blocking it might be a tough one. Tony Pulis has a very effective style which mostly entails frustrating the hell out of opponents before…well, he hasn't thought that far yet. West Brom are the latest side to benefit from Pulis' management, and it really is a benefit as he has a knack for making teams particularly solid. As a result not many backed the Baggies to go down at the start of the season which is stupefying on paper as they're a desperately mediocre side. Pulis' stoicism is reflected by their form so far this season – two wins, both 1-0 and away from home. Two bland 0-0 draws. And two defeats against top sides in Chelsea and Man City where they decided to sit back and unsurprisingly were punished, conceding three times. So they haven't conceded away from home but they've only scored two and have seen six put past them at the Hawthorns.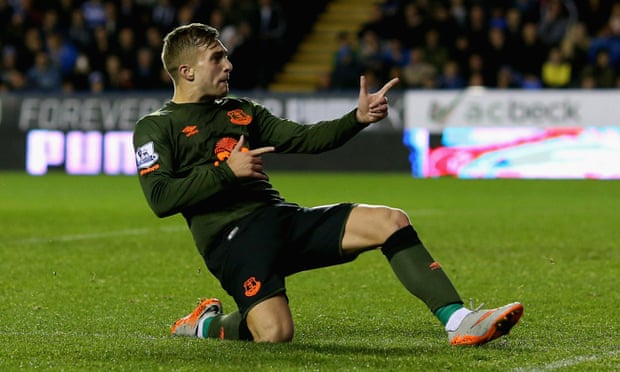 A couple of near misses for us too – if they hadn't been beaten 3-0 at home by Norwich on Wednesday it would be they who would be coming to Goodison in the League Cup. And they took Jonny Evans rather than us, and for that all I can say is…thank you West Brom. Thank you.
I'm not going to spend much time laying into West Brom fans as they have to deal with living in Birmingham, supporting a team neither of their city rivals actually gives a shit about and believing shouting "Boing Boing" and jumping up and down is anything short of cringeworthy. So they've got enough going on.
In goal is Boaz Myhill, with Dawson, McAuley, Evans and Yacob at the back. Yes, I know that defence is begging to have their blood twisted by Gerard Deulofeu. Kone it is! Fletcher, the cyclist-friendly version of Darron Gibson, joins Morrison, Brunt and McClean in the midfield. James McClean, the expert piss-boiler, recipient of some of the best ridiculous abuse in the game. "HAPPY TO TAKE THE QUEEN'S MONEY THOUGH AREN'T YOU JAMES" they bellow from their bedsits with the Union Jack and BNP stickers in the window. Rondon and Berahino, the two actually worth keeping an eye on, are up top. Yes, two up front. I know. Have a sit down. On the bench will be that lad Callum McManaman, who loves the Blues. Good lad. Sit tight on that bench and enjoy the show Callum. Him liking us and turning in the odd good performance is enough for the #EFCFamily to DEMAND that he is signed instantly because he's a top Blue and he's fast and he's a top Blue and he hates the tricky reds and that. Doesn't quite work that way. And that should be the team, unless Pulis does something really mad, like…I dunno…playing Victor Anichebe in centre midfield. Anichebe, him with an arse like a pre-diet Vanessa Feltz. Centre midfield. They ought to leave it to the professionals, like a side that put Steve Watson up front and watched him score a hat-trick. Now there's talent.
So, for Everton…what do you mean no John Stones? Pack it all up and go home. Howard in goal, hardly feeling pressure for his place as Joel Robles failed to impress again. Still, he landed more shite punches than Tyson Fury will in October. Coleman and Stones are still doubts so it looks like Browning, Jagielka, Funes Mori and Galloway. It'll be a challenge for the skipper, leading two young full backs and a man making his first Premier League start, but his good early season form makes the job a bit easier. Barry and McCarthy will be there to sweep up as well, and if Barry could set our strikers in on goal rather than theirs that would be sound. Aaron Lennon played at right back on Tuesday, proving once more that he's a good sport, but he deserves a go on the wing where he belongs. Mirallas was a major tit so he's out, Deulofeu continues to knock on the door for a place in the squad with positive performances, while both Naismith and Kone were poor against Swansea – with Kone also throwing in a sub-par effort against Reading. So who plays? You got it! It's Kone. Ten Everton points for you for getting that one. Romelu Lukaku up top. Spare the lazy shouts, they're dull. His issue is decision-making. Not knowing when to get into the penalty area rather than stay deep and working out which ball to chase and which is a lost cause, that's what he needs to work on. Lukaku is both intelligent and ambitious, so it'll get better. And if a return to his old stomping ground isn't enough motivation, that tie coming up next week should do the trick…
That's right. Next time you lay eyes upon my ramblings (unless you go through my old previews, you weirdo) it'll be the derby. We're never ready, but the players can at least prepare themselves with a win at the Hawthorns. If they keep a clean sheet it's Everton's second longest run of away clean sheets in the Premier League (four). For more perspective, our previous longest run of away clean sheets to start a Premier League season was two. Yes, I know I just guaranteed a 1-1 draw. Sorry about that. Yet a bit of desire and a clinical nature can push us over the line in games like these. We can be content with our start, if not actually pleased, but this is where the wheat and the chaff say their goodbyes. This is where the league table attracts real attention and games start to mean that bit more.
Not that every Everton game doesn't matter a load. But when the next game means so much more you definitely want a nice easy warm-up. But Everton don't do those. Just this once eh Blues?
Bring 'em on.